Vented Gas Fireplace
The vented gas fireplace is similar to a wood burning prefabricated fireplace, however cannot be used for wood, only the gas logs designed for that fireplace. These typically use the house air for combustion and then vent the gases up the metal chimney. Make sure it has a fresh air intake (brings outdoor air into the firebox so that less indoor air goes up the chimney), this will increase its overall efficiency.
This type of gas fireplace (verses direct vent & ventless) is the closet to a real wood burning fire. They have larger, more realistic flames.

Click here for various fireplace photos
---
---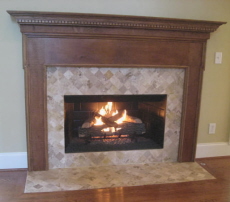 A vented gas fireplace has a prefabricated metal firebox with a metal chimney. The chimney will need to terminate through the roof to ensure proper draft. These cannot be used for wood burning, however typically have very attractive & real looking flames.
The picture to the right is an example of a top-vented gas fireplace.

Return to Home from Vented Gas Fireplace