Greenville SC
I live in Tuxedo, NC which is halfway between Greenville, SC and Hendersonville, NC. I operate my home inspection business in Greenville County. Greenville is also known as "The Upstate" of SC and Hendersonville is located in the Western NC mountains just south of Asheville, NC, home of the Biltmore.
Greenville, SC is a great place to build a home since its cost of living is much lower than most of the country and has low building costs. To learn more about real estate & homes for sale in our area, visit Greenville Moves. We are located at the foothills of the scenic Blue Ridge Mountains. For a medium size city, it offers everything of a big city with all the charm of a small town.
Let's start with the award winning Downtown of Greenville, SC. It has over 130 retail shops and 75 restaurants within one square mile.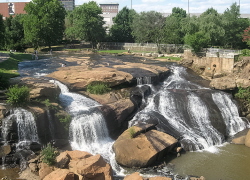 The city is very pedestrian-friendly and hosts many community events, including outdoor concerts, art shows, festivals and markets. There is the Peace Center which offers Broadway productions & concerts and the Bi-Lo Center Arena which is home to a diverse selection of sporting and concert events. A great website for seeing photos and learning more about downtown is Greenville Daily Photo.

In the heart of downtown, is the Reedy Falls Park. It has a gorgeous, natural waterfall and lush gardens throughout the park with lots of walking trails. There is an unique, curved pedestrian bridge over-looking the falls. It even won an award for engineering innovation.

Hendersonville, NC is traditionally known as "The City of Four Seasons". It is located on a scenic plateau between the Blue Ridge & Great Smokey Mountains.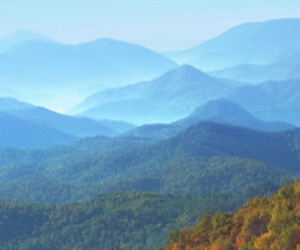 This area enjoys a mild climate where spring and fall last forever & are very colorful, winter is short with just enough snow & ice to make it fun and summer invites you to sit on the porch & enjoy the gorgeous scenery since it is never too hot.
The cost to build a home in this area of the mountains is close to the national average and about 20% higher than Greenville. To learn more about this area, visit Romantic Asheville. Its historic downtown (it is listed on the National Register of Historic Places) is very quaint with more than 100 shops and almost 20 restaurants. The serpentine street features large planters with seasonal flowers & trees that bloom throughout the year. It is geared to tourists with many gift shops and antique stores. Hendersonville downtown hosts many festivals and events, including art shows, antique shows, car shows and parades. The largest event being the annual Apple Festival held on Labor Day weekend.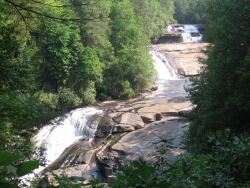 The mountains in western NC have some of the best hiking/biking trails in the country. There is an abundance of great scenery & waterfalls throughout the area. If you are interested in hiking in this area, check out this great site Hike WNC.


Return to Home from Greenville SC