Cost of Building a House
Custom Search
Determining the cost of building a house contains so many variables that it is impossible for anyone to answer accurately without gathering tons of additional information. Housing prices vary greatly depending on your location & geographic region and even differ significantly with your own local market.
---
---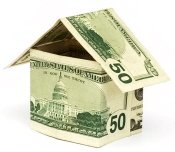 There is one accurate method to determine the cost of building your new home. And that's to add up all the bills once it has been built.
Otherwise, trying to estimate how much a home will cost to build is not easy to calculate. There are so many variables, and so many temptations to overspend once you start building a home, that coming up with a realistic budget can be tough. You also should take into consideration other extra costs such as installing a home security system, such as one from ADT Security. Unfortunately, the only way to be sure that your home building budget is reasonable is to identify and price every item that will be used to build your individual home and bid all of the associated subcontracts and labor costs. Of course, in order to do that, you will need to have plans and specifications and you will need to develop a complete and thorough estimate for your individual project. The obvious problem here is that not many people want to buy a dozen different house plans and then spend weeks or months pricing them in order to determine which ones they can afford to build.
So, a more realistic approach to determining how much your new home will cost might be to simply work backwards. Start by determining how much you can afford to spend, then be realistic about the size of the house you need, and finally, decide what and where you can afford to build. The following guidelines & suggestions should be a big help in estimating your cost of building a house.

---
---
First, you need to decide which price range home you can afford to build. There are three basic levels most home fall into.
Use Pre-Drawn House Plans
If you can afford a custom home, then have an architect design your home the way you want. However if you are on a tight budget, then using pre-drawn plans instead of custom-drawn plans can save you $1000s. Custom plans can eat up 5-10% of your total building budget. Because the plans have been used to build before, materials lists and other details have already been tested. And the original cost of the plan has been amortized over many sales. Some home plan companies can make modifications to the plan and/or your builder/contractor can often handle simple changes. Pre-drawn plans can be delivered in a few days, not the weeks or months you have to wait for custom-drawn plans.

Home Design

There are many factors in the design of your home that will influence the cost of building a house. These are some considerations to help you make decisions and how they will affect the final cost.

Ways of Estimating the Cost

There are a few methods & resources available to help you estimate the cost. Keep in mind that determining the exact cost is nearly impossible.

Building Process Considerations

There are several things to keep in mind during the building process to help keep costs under control.

Land Variables

Location, location, location. Probably the most important factor in determining the overall value of the home. The exact same house can cost $200K in one location and cost $500K in another. Land improvements can also have an affect on the costs.


Back to the Top of Cost of Building a House

Return to Home from Cost of Building a House