Small Kitchen Designs & Layouts
Custom Search
If you are on a budget, then review these small kitchen designs. Just because you have limited space, it stills needs to be functional and comfortable, since you will be spending a fair amount of time in your kitchen.
Storage space is a premium in a small kitchen design, therefore try to maximize the cabinetry and add a pantry if possible. A pantry cost less than the equivalent cabinet footprint and will provide more useful storage space. Spend the extra money for the accessories in the cabinets: sliding shelving, lots of drawers, etc. These will increase the amount of storage than having the base cabinet.

---
---
The below kitchen designs & layouts represent various styles, the single wall kitchen, galley kitchen and L-shape.



This single wall kitchen is about as small as you can go. This style has the least functionality & space, so consider a different style if you can.


---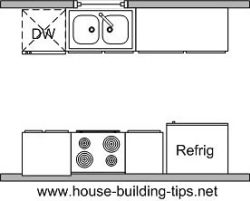 This galley kitchen has a good work triangle, however minimal cabinetry & storage.

---
---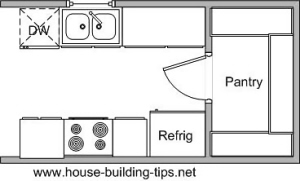 This galley kitchen has a pantry added to the end of it. This provides a lot of inexpensive additional storage.


---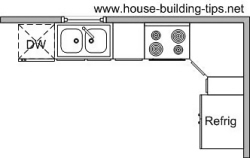 This is a small L-shape kitchen. It has good space for a small kitchen.

---
---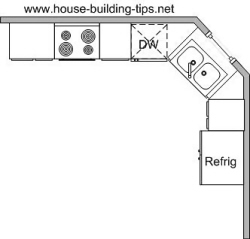 This L-shape kitchen has a corner sink with a window. It has good work space for its size.

---
This a larger L-shaped kitchen. This size can use a piece of furniture for an island or have a permanent island installed.

---
---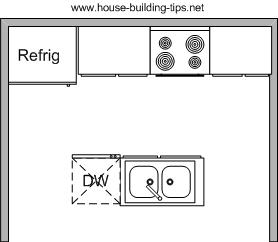 This is a galley kitchen tucked into a cove (walls on 3 sides). It would be useful in a small condo/townhome with limited space. It has good work space for a small kitchen.


Return to Home from Small Kitchen Designs